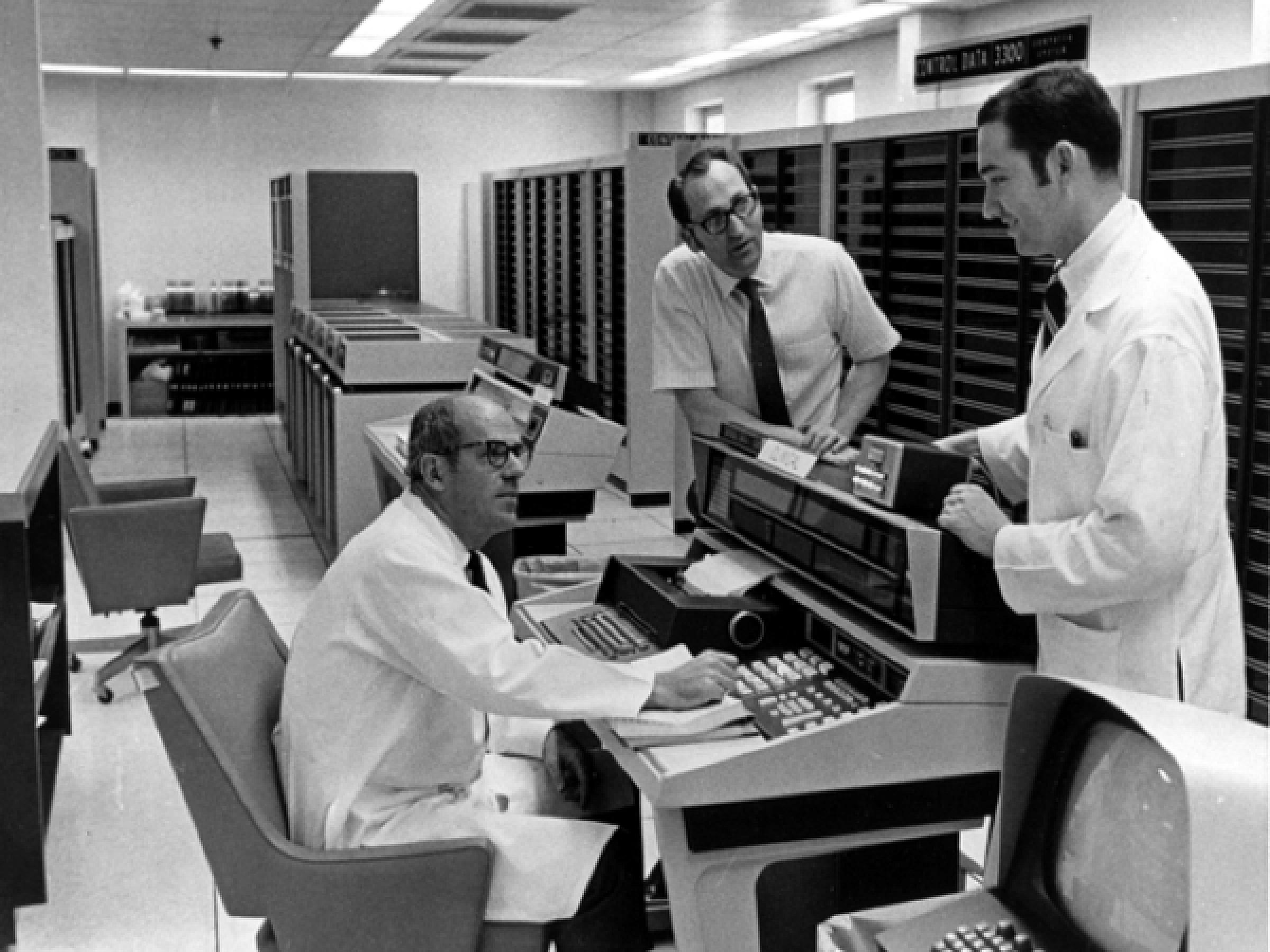 A Pioneer in Biomedical Informatics
A look into history. . . Medical informatics pioneer Homer R. Warner, MD, PhD (seated), former AMIA president, Reed M. Gardner, PhD (right), and notable researcher, Allan Pryor, PhD (center).
The Department traces its beginnings to 1964 when it was established as the Department of Biophysics and Bioengineering, housed in the College of Engineering. In 1974, it split into the Department of Bioengineering and the Department of Biophysics, which relocated to the School of Medicine. In 1976, the name was changed to the Department of Medical Biophysics and Computing, and then in 1985 changed simply to the Department of Medical Informatics. In 2006, we again updated the name to its current Department of Biomedical Informatics.
Throughout its history, the Department has enjoyed a very stable leadership. Dr. Homer Warner was chair from 1964 to 1996. Dr. Reed M. Gardner assumed the chair from 1996 to 2005. Both Drs. Warner and Gardner have received the Morris Collen Award from ACMI in recognition of their lifetime contributions to the profession. Most recently, Joyce A. Mitchell, PhD, FACMI and past president of ACMI, served as chair from 2005 to 2012. Dr. Julio Facelli served as interim chair from 2012 to 2013, until Wendy W. Chapman, Ph.D. was appointed chair and served
until 2019. Prof. Karen Eilbeck, PhD, served as interim chair from 2019 to 2021. As of February 2021, Dr. Yves Lussier currently serves as the chair.
Publications highlighting DBMI's History
We are the first Biomedical Informatics Department in the world, starting in the College of Engineering in 1964. We granted the first informatics PhD in the US in 1965.

We are the first Biomedical Informatics program in the US to be a Department in a School of Medicine (1972), and we have graduated more PhDs than any other program in the world.

Our program typically ranks as one of the largest PhD programs in the University of Utah School of Medicine (e.g., from 2009-2011 we had the most active PhD students in the School), and our program has granted more MD-PhDs than any other department in the School of Medicine.

We were the first biomedical informatics department in the nation to create a tightly integrated multi-disciplinary informatics curriculum with a College of Nursing Informatics Program, which continues to thrive to this day.

Our faculty and graduates have served in key design and implementation roles in several major electronic health record software systems (HELP, HELP2, CCDS, CPRS, VistA®)

The unique and highly successful Utah Population Database (UPDB), which combines extensive genealogy data with clinical and public health data sources, was developed in our department.

DBMI played a prominent role in the

2002 Olympics public health surveillance system.

There have been nine high-tech spin-off companies that were built on research conducted in our department. For example, Myriad Genetics is a spin-off company based on research that discovered the first breast cancer genes, BRCA1 and BRCA2, as well as other important gene discoveries (e.g., P16, ELAC2).

We enjoy one of the richest collaborative healthcare system networks in the country with faculty members who work in healthcare networks that care for over 90% of the state of Utah (IHC, UU, VA, UDOH).

Our former departmental chairs, Warner and Gardner, were winners of the prestigious Morris Collen Award of Excellence for Lifetime Achievement in Medical Informatics, the highest honor in our discipline.

Our department was a charter member of the first international Informatics education collaborative formed, the International Partnership for Health Informatics Education (IPHIE).